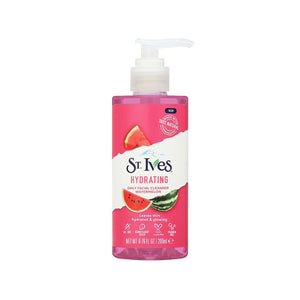 ST IVES HYDRATING DAILY FACIAL CLEANSER WATERLEMON 200ML This daily face cleanser removes dirt, oil, and impurities from the skin's surface while providing a daily dose of hydration for glowing skin.
This skin-quenching face cleanser is made with 100% natural watermelon extract
This facial cleanser is oil-free, paraben free, non-comedogenic , and dermatologist tested.
This daily face wash is the perfect to ensure your glow radiates day and night!
HOW TO USE :
1. Squeeze a coin-sized amount onto fingertips and gently massage onto face.

2. Spread in small, circular motions, applying gentle pressure to wake your skin's natural circulation.

3. Work all over, right up to your hairline and onto the sides of your nose.

4. When you're done, rinse and pat dry with a clean towel.
اس تي ايفز هايدريتنج دايلي فيشل كلينزر وتر ميلون يزيل منظف الوجه اليومي الأوساخ والزيوت والشوائب من سطح البشرة مع توفير جرعة يومية من الترطيب لبشرة متوهجة
منظف الوجه الذي يروي البشرة مصنوع من مستخلص البطيخ الطبيعي
منظف الوجه هذا خالي من الزيوت والبارابين وغير كوميدوغينيك وتم اختباره من قبل أطباء الجلدية
يعتبر غسول الوجه اليومي هذا مثاليًا لضمان إشراق توهجك ليلًا ونهارًا
كيفية الاستخدام
   ضعي كمية بحجم العملة المعدنية على أطراف الأصابع ودلكي وجهك برفق
وزعيه بحركات دائرية صغيرة ، واضغطي برفق لتنشيط الدورة الدموية الطبيعية لبشرتك
وزعيه على بشرتك ، حتى بالقرب من منبت الشعر وعلى جانبي أنفك
 عند الانتهاء ، اشطفيه وجففي بشرتك بمنشفة نظيفة