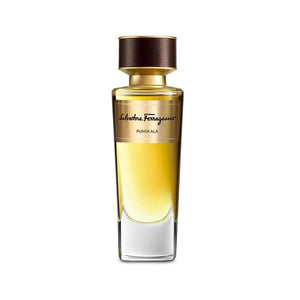 SALVATORE FERRAGAMO TUSCAN CREATIONS PUNTA ALA COLLECTION EAU DE PARFUM 100ML  is a sophisticated journey through the region's golden costal land.
OLFACTIVE FAMILY: Woody, Citru, Oriental
TOP NOTES: cocktail of Bergamot, Lemon, Mandarin Orange and a dash of Neroli Bigarade.
blend of Jasmine and Paradisone enhanced by the green, slightly fruity notes of Olive Leaves.
BASE NOTES: Cedar Wood gives a noble touch with Vetiver and Patchouli, wrapped in crystalline Musks.
 سلفاتوري فيراغامو توسكان كريشن بونتا الا كولكشن 100مل عطر Tuscan Creations من سالفاتور فيراغامو ،  هي رحلة متطورة عبر الأراضي الساحلية الذهبية في المنطقة. العائلة العطرية: خشبي ، سيترو ، شرقي أعلى الروائح: كوكتيل من البرغموت والليمون والبرتقال واندفاعة من نيرولي بيجاراد. : مزيج من الياسمين و Paradisone معزز بمكونات خضراء وفاكهة قليلاً لأوراق الزيتون. ملاحظات أساسية: يضفي خشب الأرز لمسة نبيلة مع نجيل الهند والباتشولي ، ملفوف في المسك البلوري.