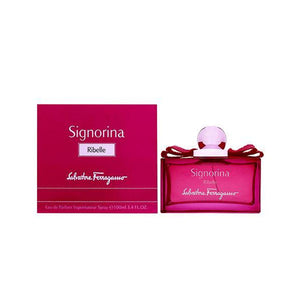 SALVATORE FERRAGAMO SIGNORINA RIBELLE WOMAN EAU DE PARFUM 100ML surprising yet rebel creation, built on shining contrasts of vivid Mandarin and juicy Red Pear, sophisticated Pink Pepper and daring Ylang-Ylang.
The magnetic carnal flowers - Frangipani and Jasmine - dive into intriguing tones of Coconut Milk and Vanilla Gelato, to be then captivated by creamy chic Sandalwood.
سلفاتوري فيراغامو سيجنورينا ريبيل ومان او دي بارفيوم 100مل  ابتكار مثير للدهشة ولكنه متمرد ، مبني على التناقضات الساطعة من الماندرين النابض بالحياة والكمثرى العصير ، والفلفل الوردي المتطور والإيلنغ الجريء. تغوص الأزهار الجسدية المغناطيسية - فرانجيباني وياسمين - في نغمات مثيرة للاهتمام من حليب جوز الهند وفانيليا جيلاتو ، لتفتن بعد ذلك بخشب الصندل الكريمي الأنيق.