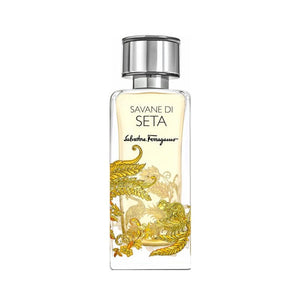 SALVATORE FERRAGAMO SAVANE DI SETA UNISEX EAU DE PARFUM storie di seta is the new line of fragrances inspired by the imaginary worlds of Salvatore Ferragamo's silk creations. A refined collection of four universal and fresh perfumes, each unique fragrance is bound by an exclusive mix.
Savane di Seta is a fiery sunset on a mysterious savannah. Adorned with a sophisticated mix of stylized exotic flora and rare animals, the elegant bottle inspired by Ferragamo's silk creations holds a new, luminous perfume, one Storia di Seta evoking the oneiric horizons of unique sunlit lands ready to be discovered.
سلفاتوري فيراغامو سافانا دي سيتا للجنسين او دي بارفيوم Storie di seta هو خط جديد من العطور مستوحى من العوالم الخيالية لإبداعات الحرير من سالفاتور فيراغامو. مجموعة راقية من أربعة عطور عالمية وطازجة ، كل عطر فريد مرتبط بمزيج حصري. سافان دي سيتا هو غروب الشمس الناري على السافانا الغامضة. مزينة بمزيج متطور من النباتات الغريبة والحيوانات النادرة ، الزجاجة الأنيقة المستوحاة من إبداعات الحرير من Ferragamo تحمل عطرًا جديدًا ومضيئًا ، عطر Storia di Seta الذي يستحضر الآفاق الأحادية للأراضي الفريدة المضاءة بنور الشمس الجاهزة لاكتشافها.