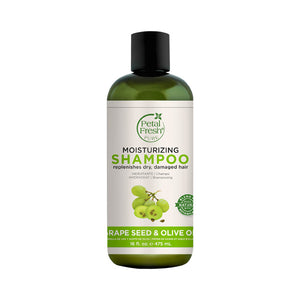 PETAL FRESH GRAPE SEED & OLIVE OIL MOISTURIZING SHAMPOO Restore health to dry, damaged hair with Seed & Olive Oil Shampoo . Drench your dry strands in this replenishing blend of ultra-hydrating Certified Organic Olive Oil and nutrient-rich Certified Organic Grape Seed to transform parched hair into soft, silky perfection.
Rich antioxidants improve hair's shine.
Helps repair & protect hair for the ultimate shine.
Infused with essential oils.
No harsh preservatives, parabens nor GMO's. Safe for colored hair. Vegan & cruelty-free.
HOW TO USE : 

Apply to wet hair and massage from roots to ends. rinse thoroughly. for best result, follow with conditioner 
شامبو بيتال فريش ببذور العنب وزيت الزيتون
استعد صحة شعرك الجاف والتالف باستخدام شامبو البذور وزيت الزيتون. اغمرِ شعرك الجاف في هذا المزيج المجدد من زيت الزيتون العضوي فائق الترطيب وبذور العنب العضوية الغنية بالمغذيات لتحويل الشعر الجاف إلى الكمال الناعم والحريري
تعمل مضادات الأكسدة الغنية على تحسين لمعان الشعر
يساعد في إصلاح الشعر وحمايته لأقصى لمعان
محمل بالزيوت الأساسية
خالي من المواد الحافظة القاسية والبارابين والكائنات المعدلة وراثيًا. آمن للشعر المصبوغ. نباتي وخالي من القسوة
كيفية الاستخدام
يوضع على الشعر المبلل ويدلك من الجذور حتى الأطراف. اشطف جيدا. للحصول على أفضل النتائج ، اتبعه بالبلسم
yaqeen
بجنن انا شعري جاف وناسبني🤍
ممتاز
مناسب للي بمشي على نظام ال cgm وريحته حلوة