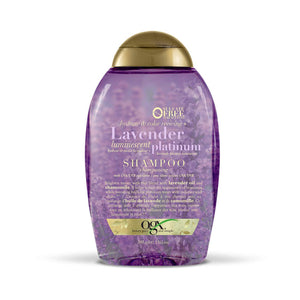 OGX HYDRATE & COLOR REVIVING + LAVENDER LUMINESCENT PLATINUM SHAMPOO 385ML brighten your hair and your day with our new Hydrate + Color Reviving Lavender Luminescent Platinum. Enhance those platinum white tones and remove brassiness while helping your colored hair live longer with this blend with Lavender Oil and Chamomile extract.

Apply shampoo generously to wet hair, massage into a lather through to ends, then rinse the hair thoroughly. After shampooing, follow with conditioner.
أو جي اكس شامبو بلاتينيوم برائحة اللافندر للشعر المصبوغ 385 مل أضيفي البريق لشعرك ويومك مع منتجنا أو جي اكس شامبو بلاتينيوم.  يساعد شعرك الملون على العيش لفترة أطول مع هذا المزيج من زيت اللافندر ومستخلص البابونج.
ضعي الشامبو بسخاء على الشعر المبلل ، دلكي الرغوة حتى الأطراف ، ثم اشطفي الشعر جيدًا. بعد غسل الشعر بالشامبو ، اتبعيه بالبلسم.