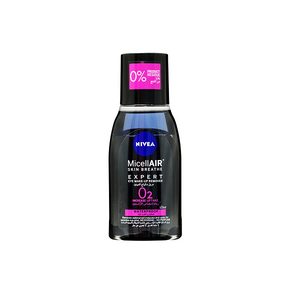 NIVEA MICELLAIR O2 WATERPROOF EYE MAKEUP REMOVER 125ML formulated with dry oil, sweep away long-lasting make-up and waterproof mascara.
Removes long-lasting make-up
The lightweight formula, infused with Micellar & black tea extract, deeply cleanses and removes even the most stubborn make-up without irritation or leaving product residue on your delicate skin. Suitable for face and eyes.
 نيفيا مزيل المكياج بماء الميسيلار يزيل المكياج طويل الأمد والماسكارا المقاومة للماء
تركيبة خفيفة الوزن مشبعة بمستخلص ميسيلار والشاي الأسود ، تنظف بعمق وتزيل حتى أصعب المكياج دون تهيج أو ترك بقايا المنتج على بشرتك الحساسة. مناسب للوجه والعينين