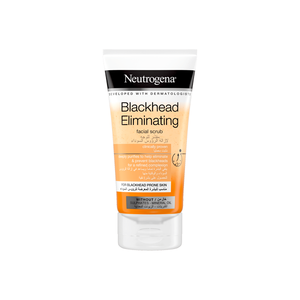 NEUTROGENA BLACKHEAD ELIMINATING FACIAL SCRUB You can put your best face forward.
Make blackheads a thing of the past.
Blackhead-free skin for weeks and weeks.
Neutrogena Blackhead Eliminating works deep in the pores to prevent blackheads from developing for up to 3 weeks. Gentle exfoliating beads sweep away dead skin cells. Does not over-dry.
Formulated without plastic microbeads to be environmentally friendly.

نايتورجينا بلاك هيد الميمنيتنج فايشل سكراب 
جعل الرؤوس السوداء شيئًا من الماضي. بشرة خالية من الرؤوس السوداء لأسابيع وأسابيع. يعمل مزيل الرؤوس السوداء من نيوتروجينا في عمق المسام لمنع ظهور الرؤوس السوداء لمدة تصل إلى 3 أسابيع. حبيبات تقشير لطيفة تزيل خلايا الجلد الميتة. لا تفرط في الجفاف. تمت صياغته بدون ميكروبيدات بلاستيكية ليكون صديقًا للبيئة.
Noticed less blackheads after the first use
highly recommend
NEUTROGENA BLACKHEAD ELIMINATING FACIAL SCRUB 150ML