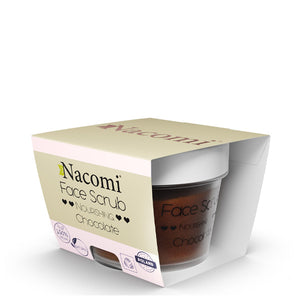 NACONMI NOURISHING FACE&LIPS SCRUB - CHOCOLATE 80G this natural sugarcane-based scrub gently exfoliates dead cells to leave your skin feeling silky smooth. Avocado oil nourishes the skin, while cocoa butter delivers powerful hydration, while antioxidant-packed cocoa powder provides skin with natural renewal. 
HOW TO USE:
Apply the necessary amount of the scrub to clean the face and massage for a while, then rinse it with water.
ناكومي مقشر الوجه والشفاه هذا المقشر يقشر الطبيعي المستند إلى قصب السكر يزيل الخلايا الميتة بلطف ليترك بشرتك ناعمة كالحرير. يغذي زيت الأفوكادو البشرة ، بينما توفر زبدة الكاكاو ترطيبًا قويًا ، بينما يوفر مسحوق الكاكاو المليء بمضادات الأكسدة تجديدًا طبيعيًا للبشرة.
طريقة الاستخدام:
ضعي الكمية اللازمة من المقشر لتنظيف الوجه والتدليك لفترة ثم اشطفيه بالماء.