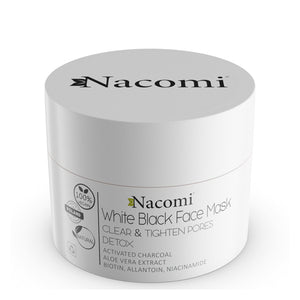 NACOMI WHITE&BLACK FACE MASK - DEEP CLEANSING, PURIFYING, DETOXIFYING 50ML the mask effectively nourishes, moisturizes and tightens the skin. Intended for dry skin with signs of aging
HOW TO USE: 
Apply mask evenly across the entire face and neck, including eyelids and lips.
ناكومي قناع الوجه الابيض و الاسود لتنظيف عميق و تنقية و ازالة للسموم 50مل القناع يغذي البشرة ويرطبها ويشدها بشكل فعال. مخصص للبشرة الجافة مع علامات الشيخوخة
طريقة الاستخدام:
ضعي القناع بالتساوي على كامل الوجه والرقبة ، بما في ذلك الجفون والشفاه .