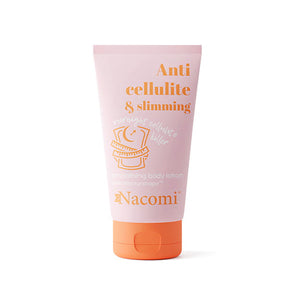 NACOMI SMOOTHING BODY LOTION WITH NOCTURSHAPE 150ML  smoothing body lotion for the night prevents the formation of cellulite and helps to eliminate it. Restores firmness and increases skin elasticity, strengthens its structure and ensures proper hydration. Its creamy texture is easy to spread, and thanks to the active ingredient NOCTURSHAPE™, it reduces the circumference of the thighs by almost 1 cm in 15 days!* In addition, shea butter combined with a composition of natural sweet almond and macadamia oils make the balm intensely nourishing, smoothing and supports skin regeneration.
HOW TO USE: 
Massage a small amount of lotion with circular movements into the skin of the whole body (especially in areas prone to cellulite). Product for external use.
ناكومي كريم الجسم للتنعيم 150مل لوشن تنعيم الجسم ليلاً يمنع تكون السيلوليت ويساعد في القضاء عليه. يعيد تماسك البشرة ويزيد من مرونتها ويقوي بنيتها ويضمن الترطيب المناسب لها. من السهل دهن قوامه الكريمي ، وبفضل المكون الفعال NOCTURSHAPE فإنه يقلل محيط الفخذين بحوالي 1 سم في 15 يومًا! بلسم يغذي بشكل مكثف وينعم ويدعم تجديد البشرة.
طريقة الاستخدام:
قم بتدليك كمية صغيرة من المستحضر بحركات دائرية على جلد الجسم كله (خاصة في المناطق المعرضة للسيلوليت). منتج للاستخدام الخارجي.