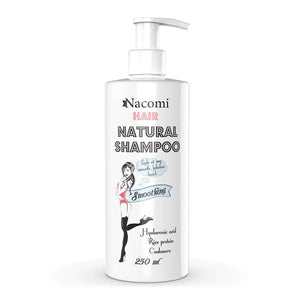 NACOMI SMOOTHING AND MOISTURIZING HAIR SHAMPOO 250ML natural shampoo with hyaluronic acid and rice proteins moisturizes hair and makes it stronger during daily use to make your hair shiny.
HOW TO USE: 
Shake before using. Apply with washed and damp hair, let it act for 2-3 minutes, then rinse with water.
ناكومي شامبو طبيعي للشعر 250مل بحمض الهيالورونيك وبروتينات الأرز يرطب الشعر ويجعله أقوى أثناء الاستخدام اليومي ليجعل شعرك لامعًا.
طريقة الاستخدام:
رج العبوة قبل الاستخدام. ضعيه على شعر مغسول ورطب ، اتركيه لمدة 2-3 دقائق ، ثم اشطفيه بالماء.