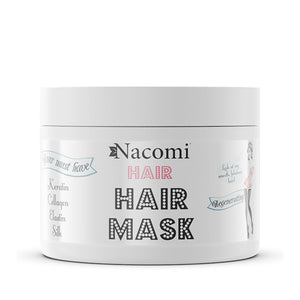 NACOMI SMOOTHING AND MOISTURIZING HAIR MASK 200ML smoothing and moisturizing hair mask for the care of all types of hair. Regular use of the mask will strengthen your hair and give it a beautiful look. Argan oil, which is contained in thse composition, smoothes the structure, and cashmere proteins penetrate deeply into the hair structure.
HOW TO USE: 
Massage the mask into washed, damp hair, leave it for 10 to 30 minutes, and then rinse thoroughly.
قناع ناكومي لتنعيم وترطيب الشعر200مل  للعناية بجميع أنواع الشعر. الاستخدام المنتظم للقناع سيقوي شعرك ويعطيه مظهرًا جميلًا. زيت الأرغان ، الموجود في هذه التركيبة ، ينعم البنية ، وتتغلغل بروتينات الكشمير بعمق في بنية الشعر.
طريقة الاستخدام:
دلكي القناع على شعر مغسول ورطب ، اتركيه لمدة 10 إلى 30 دقيقة ، ثم اشطفيه جيدًا.