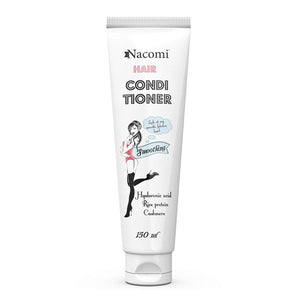 NACOMI SMOOTHING AND MOISTURIZING HAIR CONDITIONER 150ML smoothing and moisturizing hair conditioner is a collection of natural and precious ingredients. Thanks to it, your hair will become beautiful and shiny. Apart from the care, the conditioner makes it easier to detangle the hair.
HOW TO USE: 
Shake before using. Apply with washed and damp hair, let it act for 2-3 minutes, then rinse with water.
ناكومي بلسم لتنعيم وترطيب الشعر 150مل عبارة عن مجموعة من المكونات الطبيعية والثمينة. بفضل ذلك ، سيصبح شعرك جميلًا ولامعًا. بصرف النظر عن العناية ، يجعل البلسم من السهل فك تشابك الشعر.
طريقة الاستخدام:
رج العبوة قبل الاستخدام. ضعيه على شعر مغسول ورطب ، اتركيه لمدة 2-3 دقائق ، ثم اشطفيه بالماء.