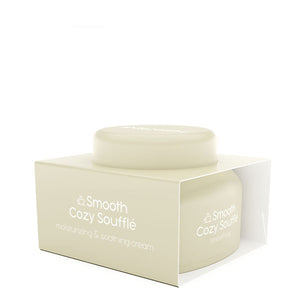 NACOMI SMOOTH COZY SOUFFLÉ MOISTURIZING & SOOTHING 50ML created on the basis of natural oils and extracts, have strong moisturizing properties. By stimulating the natural processes of skin renewal, it quickly reduces discoloration and clogged pores. Thanks to coconut water, it effectively cleans the pores. The kinetin contained in it has an antioxidant effect - it inhibits the formation of wrinkles. Manuka honey extract soothes irritated skin and reduces redness. In addition, almond milk in combination with tapioca smoothes and softens rough skin.
HOW TO USE:
Apply a small amount of the cream on the cleansed skin of the face and massage it in gently.
ناكومي كريم مرطب ومهدئ 50مل تم إنشاؤه على أساس الزيوت الطبيعية والمستخلصات ، يتمتع بخصائص ترطيب قوية. من خلال تحفيز العمليات الطبيعية لتجديد الجلد ، فإنه يقلل بسرعة من تغير اللون وانسداد المسام. بفضل ماء جوز الهند ، ينظف المسام بشكل فعال. يحتوي الكينتين الموجود فيه على تأثير مضاد للأكسدة - فهو يمنع تكوين التجاعيد. مستخلص عسل مانوكا يهدئ البشرة المتهيجة ويقلل الاحمرار. بالإضافة إلى ذلك ، فإن حليب اللوز مع التابيوكا ينعم البشرة الخشنة.
طريقة الاستخدام:
ضعي كمية قليلة من الكريم على بشرة الوجه بعد تنظيفها وقم بتدليكها برفق.