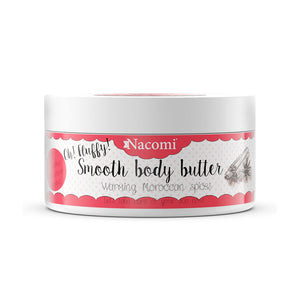 NACOMI SMOOTH BODY BUTTER - WARMING MOROCCAN SPICES 100MLlet the lightweight and intensely moisturizing body butter cover your body with the warming aroma of spices from Moroccan bazaar and leave your skin smooth and soft owing to the content of shea butter and deep nourishing avocado oil.
HOW TO USE:
Gently massage a little bit of the light butter into the skin.
ناكومي سموث بودي بتر وارمنغ موركان 100مل دع زبدة الجسم خفيفة الوزن والمرطبة بشكل مكثف تغطي جسمك برائحة التوابل الدافئة من البازار المغربي وتترك بشرتك ناعمة وطرية بسبب محتوى زبدة الشيا وزيت الأفوكادو المغذي بعمق.
طريقة الاستخدام:
قم بتدليك القليل من الزبدة الخفيفة على البشرة برفق.