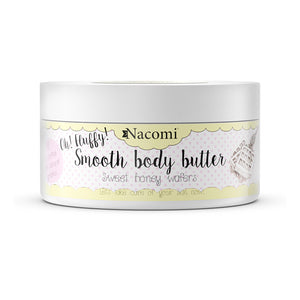 NACOMI SMOOTH BODY BUTTER - SWEET HONEY WAFERS 100ML of skin cells Body lotion with excellent caring properties. Intensively moisturizes and nourishes dry skin, stimulating collagen production to make your skin more elastic. Sweet Almond Oil has very good moisturizing and emollient properties, which is why it will provide your skin with excellent care and give it exceptional softness. The oil will also provide her with many nutrients. In addition, it soothes and calms the skin, effectively calming irritated skin.
Macadamia oil is one of the few effective weapons in the fight against cellulite, which is why it is loved by women all over the world. Macadamia oil effectively moisturizes dry and rough skin, preventing premature aging, allowing you to enjoy beautiful skin full of vitality for longer. Shea butter deeply moisturizes and lubricates the skin, rebuilding its protective barrier, so that it is not afraid of the harmful effects of cold or wind. Prevents photo-aging of the skin and premature appearance of signs of aging such as sagging skin that lacks elasticity and unsightly discoloration.
HOW TO USE:
Gently massage some smooth body butter into your skin.

ناكومي سموث بودي بتر سويت هوني وافر 100مل من لوشن خلايا الجلد للجسم بخصائص رعاية ممتازة. يرطب ويغذي البشرة الجافة بشكل مكثف ، مما يحفز إنتاج الكولاجين لجعل بشرتك أكثر مرونة. يتمتع زيت اللوز الحلو بخصائص ترطيب ومطريات جيدة جدًا ، وهذا هو السبب في أنه سيوفر لبشرتك عناية ممتازة ويمنحها نعومة استثنائية. سيوفر لها الزيت أيضًا العديد من العناصر الغذائية. بالإضافة إلى ذلك ، فهو يهدئ البشرة ويهدئها ، ويهدئ البشرة المتهيجة بشكل فعال. زيت المكاديميا هو أحد الأسلحة الفعالة القليلة في مكافحة السيلوليت ، وهذا هو السبب في أنه محبوب من قبل النساء في جميع أنحاء العالم. يعمل زيت المكاديميا على ترطيب البشرة الجافة والخشنة بشكل فعال ، مما يمنع الشيخوخة المبكرة ، مما يسمح لك بالاستمتاع ببشرة جميلة مليئة بالحيوية لفترة أطول. تعمل زبدة الشيا على ترطيب البشرة وترطيبها بعمق ، وإعادة بناء حاجزها الوقائي ، بحيث لا تخاف من الآثار الضارة للبرد أو الرياح. يمنع الشيخوخة الضوئية للجلد والظهور المبكر لعلامات الشيخوخة مثل ترهل الجلد الذي يفتقر إلى المرونة وتغير اللون بشكل قبيح.
طريقة الاستخدام:
دلكي برفق بعض زبدة الجسم الناعمة على بشرتك.