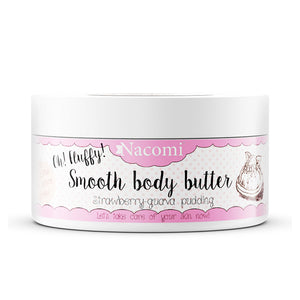 NACOMI SMOOTH BODY BUTTER - STRAWBERRY-GUAVA PUDDING 100ML the body butter with the most refreshing strawberry scent for the skin nourishes the skin and makes it soft to the touch. It is applied to your skin to improve skin firmness and elasticity and rejuvenate your complexion
HOW TO USE:
Apply a small amount of butter and massage it onto clean, dry skin in circular motions until fully absorbed.
ناكومي سموث بودي بتر ستروباري جوافة بدنغ 100مل زبدة الجسم برائحة الفراولة الأكثر انتعاشًا للبشرة تغذي البشرة وتجعلها ناعمة الملمس. يتم تطبيقه على بشرتك لتحسين تماسك البشرة ومرونتها وتجديد شبابها
طريقة الاستخدام:
ضع كمية صغيرة من الزبدة وقم بتدليكها على بشرة نظيفة وجافة بحركات دائرية حتى تمتص بالكامل.