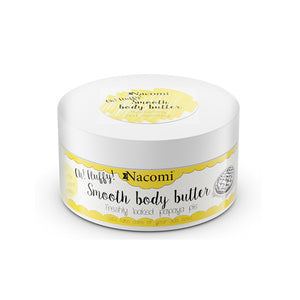 NACOMI SMOOTH BODY BUTTER - FRESHLY-BAKED PAPAYA PIE 100ML soft-touch papaya body butter with an attractive scent that intensely moisturizes and nourishes the skin. Contains shea butter and almond oil for superior skin smoothness Improves skin elasticity. Gives glow and radiance to the skin Rapid absorption and deep penetration of the skin. Protects the skin from premature aging and makes it more youthful. No greasy effects. Stretching and cellulite with the delicious and fresh scent of papaya, suitable for all skin types, especially very dry skin. Paraben-free.
HOW TO USE:
Gently massage some smooth body butter into your skin
ناكومي سموث بودي بتر فرشلي باكد بابايا 100مل زبدة الجسم بالبابايا ناعمة الملمس برائحة جذابة ترطب وتغذي البشرة بشكل مكثف. يحتوي على زبدة الشيا وزيت اللوز للحصول على نعومة فائقة للبشرة وتحسين مرونة الجلد. يعطي توهجًا وإشراقًا للجلد سريع الامتصاص ويتغلغل بعمق في الجلد. يحمي البشرة من الشيخوخة المبكرة ويجعلها أكثر شباباً. لا آثار دهنية. تمدد و سيلوليت برائحة البابايا اللذيذة و المنعشة ، مناسبة لجميع أنواع البشرة و خاصة البشرة شديدة الجفاف. بارابين مجانا.
طريقة الاستخدام: 
قم بتدليك بعض زبدة الجسم الناعمة على بشرتك برفق.