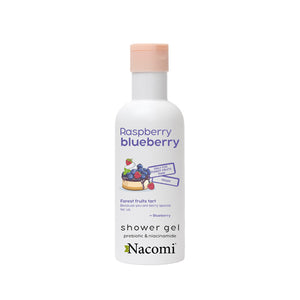 NACOMI SHOWER GEL - RASPBERRY AND BLUEBERRY 300ML  in a gentle but effective way, it washes and cleanses the skin of the whole body from all impurities and dirt, without drying the epidermis. It contains a strong dose of nutritional ingredients such as: blackberry extract, raspberry extract, niacinamide and prebiotics, vitamins B3, E and C, and glycerin. Effectively strengthens the protective barrier of the epidermis, delays the aging process, intensively moisturizes and regenerates, as well as evens out the color and adds a radiant glow. In addition, the gel protects against free radicals, reduces itching, and soothes irritations.
HOW TO USE: 
Apply the gel to damp skin and massage into a lather. Rinse with lukewarm water. Avoid eye contact.
ناكومي جل الاستحمام-توت300مل بطريقة لطيفة وفعالة ، يغسل وينظف بشرة الجسم بالكامل من جميع الشوائب والأوساخ ، دون أن يجف البشرة. يحتوي على جرعة قوية من المكونات الغذائية مثل: خلاصة التوت الأسود وخلاصة التوت والنياسيناميد والبريبايوتكس والفيتامينات B3 و E و C والجلسرين. يقوي بشكل فعال الحاجز الواقي للبشرة ، ويؤخر عملية الشيخوخة ، ويرطب بشكل مكثف ويجدد ، وكذلك يوحد اللون ويضيف توهجًا مشعًا. بالإضافة إلى ذلك ، يحمي الجل من الجذور الحرة ويقلل من الحكة ويلطف التهيج.
طريقة الاستخدام:
ضع الجل على الجلد الرطب وقم بالتدليك في رغوة الصابون. اشطفيه بالماء الفاتر. تجنب ملامسة العين.