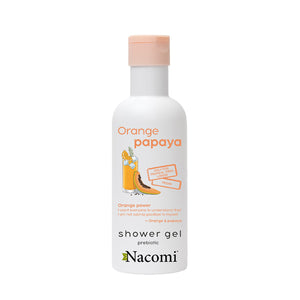 NACOMI SHOWER GEL – ORANGE AND PAPAYA 300ML in a gentle but effective way, it washes and cleanses the skin of the whole body of all impurities and dirt, without drying the epidermis. It contains a strong dose of nourishing ingredients such as papaya and orange extracts, prebiotics, glycerin, sorbitol, panthenol and vitamins E and C. Intensively moisturizes, refreshes, strengthens and smoothes. In addition, it stimulates renewal ,washes and cleans well, Soothes irritations, Moisturizes, strengthens and regenerates.
HOW TO USE: 
Apply the gel to wet skin and massage until foam is formed, then rinse. Avoid contact with eyes. Product for external use.
ناكومي جل الاستحمام - برتقال و بابايا 300مل بطريقة لطيفة وفعالة ، يغسل وينظف بشرة الجسم بالكامل من جميع الشوائب والأوساخ ، دون أن يجف البشرة. يحتوي على جرعة قوية من المكونات المغذية مثل مستخلصات البابايا والبرتقال والبريبايوتكس والجلسرين والسوربيتول والبانثينول والفيتامينات E و C. يرطب بشكل مكثف وينعش ويقوي وينعم. بالإضافة إلى ذلك ، فهو يحفز التجديد يغسل وينظف جيداً و يهدئ التهيج يرطب ويقوي ويجدد.
طريقة الاستخدام:
يوضع الجل على الجلد المبلل ويدلك حتى تتكون الرغوة ثم يشطف. تجنب ملامسة العينين. منتج للاستخدام الخارجي.