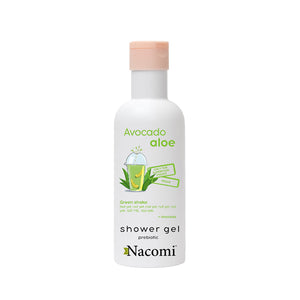 NACOMI SHOWER GEL - AVOCADO AND ALOE 300ML in a gentle but effective way, it washes and cleanses the skin of the whole body of all impurities and dirt, without drying  the epidermis. It contains a strong dose of nourishing ingredients such as: avocado extract (rich in vitamins A, B, D, E, H, K and PP), aloe juice and extract, prebiotics and vitamins E and C. Long-term moisturizing, nourishing, makes the epidermis more flexible and regenerates. In addition, it makes the skin soft and smooth, all irritations are soothed washes ,cleans well ,deeply nourishes ,moisturizes smoothes, tightens and tones.
HOW TO USE: 
Apply the gel to damp skin and massage into a lather. Rinse with lukewarm water. Avoid eye contact.
ناكومي جل الاستحمام - الافوكادو و الصبار 300مل بطريقة لطيفة وفعالة ، يغسل وينظف بشرة الجسم بالكامل من جميع الشوائب والأوساخ ، دون أن يجف البشرة. يحتوي على جرعة قوية من المكونات المغذية مثل: مستخلص الأفوكادو (غني بالفيتامينات A و B و D و E و H و K و PP) وعصير وخلاصة الصبار والبريبايوتكس والفيتامينات E و C. ترطيب طويل الأمد وتغذية ، يجعل البشرة أكثر مرونة وتتجدد. بالإضافة إلى ذلك ، فهو يجعل البشرة ناعمة وسلسة ، ويلطف جميع التهيجات يغسل وينظف جيداً يغذي ويرطب بعمق ينعم ويشد لونًا.
طريقة الاستخدام:
ضع الجل على الجلد الرطب وقم بالتدليك في رغوة الصابون. اشطفيه بالماء الفاتر. تجنب ملامسة العين.