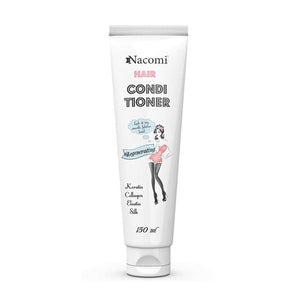 NACOMI REGENERATING AND NOURISHING HAIR CONDITIONER 150ML nourishing and regenerating hair conditioner from Nacomi is a natural cosmetic for hair care. The conditioner is a collection of natural and precious ingredients that improve the condition of the hair and make it moisturized and shiny.
HOW TO USE:
 Shake before using. Apply with washed and damp hair, let it act for 2-3 minutes, then rinse with water.
بلسم ناكومي المغذي و المجدد للشعر 150مل هو مستحضر تجميلي طبيعي للعناية بالشعر. البلسم عبارة عن مجموعة من المكونات الطبيعية والثمينة التي تعمل على تحسين حالة الشعر وتجعله مرطبًا ولامعًا.
طريقة الاستخدام:
رج العبوة قبل الاستخدام. ضعيه على شعر مغسول ورطب ، اتركيه لمدة 2-3 دقائق ، ثم اشطفيه بالماء.