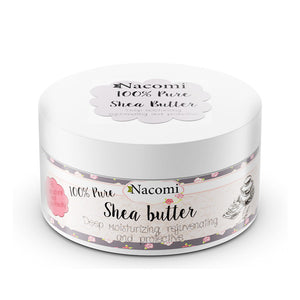 NACOMI PURE KARITE/SHEA BUTTER 100ML has soothing, nourishing and normalizing properties. Penetrates deep into the skin, nourishing, hydrating and smoothing it. It protects it from damage caused by UV rays and atmospheric agents. It is effective against skin aging. Ideal for dry skin and hair but also for chapped lips.

HOW TO USE:

For hair: As a mask, apply it on the scalp, from the roots of the hair to the ends, then rinse thoroughly. Rub a small amount of product between your hands and apply it to damaged and brittle ends.
For the body: Gently massage until completely absorbed.
ناكومي بيور شيا بتر 100مل له خصائص مهدئة ومغذية وتطبيع. يتغلغل في أعماق البشرة ، يغذيها ، ويرطبها ، وينعمها. يحميها من الأضرار التي تسببها الأشعة فوق البنفسجية والعوامل الجوية. إنه فعال ضد شيخوخة الجلد. مثالي للبشرة الجافة والشعر وأيضًا للشفاه المتشققة. 
طريقة الاستخدام:
للشعر: كقناع ، ضعيه على فروة الرأس ، من جذور الشعر إلى الأطراف ، ثم اشطفيه جيدًا. افركي كمية صغيرة من المنتج بين يديك وضعيه على الأطراف التالفة والهشة. للجسم: دلكي بلطف حتى تمتصه تماما.