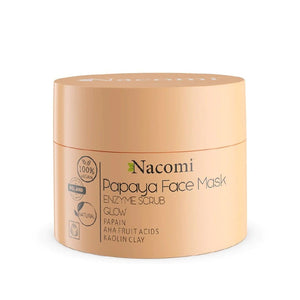 NACOMI PAPAYA FACE MASK ENZYME SCRUB 50ML  is ideal to help remove dead skin and soften your skin. Unlike other peels, this mask exfoliates the dead cells of the epidermis thanks to plant enzymes. Therefore, it can help not irritate the skin and could be used by those with somewhat more sensitive skin. Cleanse, exfoliate and remove dead epidermis. Restore softness to your skin. Restore the radiance and healthy appearance of the skin. Give your skin a smooth and radiant appearance!
HOW TO USE:
 Apply peeling mask on clean face. Leave for 10-15 minutes then rinse off with water. Avoid contact with eyes.
ناكومي بابايا قناع للوجه مثالي للمساعدة في إزالة الجلد الميت وتنعيم بشرتك. على عكس أنواع التقشير الأخرى ، يقشر هذا القناع الخلايا الميتة للبشرة بفضل الإنزيمات النباتية . لذلك ، يمكن أن يساعد في عدم تهيج الجلد ويمكن استخدامه من قبل أصحاب البشرة الأكثر حساسية إلى حد ما. ينظف ويقشر ويزيل البشرة الميتة. استعادة النعومة لبشرتك. يستعيد إشراق البشرة ومظهرها الصحي. يمنح بشرتك مظهرًا ناعمًا ومشرقًا!
طريقة الاستخدام:
ضع قناع التقشير على وجه نظيف. اتركيه لمدة 10-15 دقيقة ثم اشطفيه بالماء. تجنب ملامسة العينين.