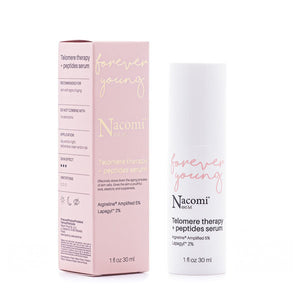 NACOMI NEXT LEVEL TELOMERE THERAPY SERUM 30ML is an intensive anti-aging treatment. Thanks to the advanced formula of active ingredients, it helps to effectively slow down the aging process of the skin and preserve its youthful appearance for a longer period of time. Formula enriched with Lapagyl™ prevents telomere shortening and cell aging. In addition, Argireline® Amplified hexapeptide acts on all levels of the skin, reducing the appearance of expression lines and age-related changes. Thanks to babassu oil, avocado oil and vitamin E, the serum softens, it nourishes and smooths the skin, and trehalose, glycerin and a complex of 4 forms of hyaluronic acid contained in the composition ensure a satisfactory level of hydration.
HOW TO USE:
Apply a small amount morning and evening to clean face, neck and décolleté. Massage gently and leave until fully absorbed. Use before cream/oil application. Avoid eye contact.
ناكومي نيكست ليفيل تيلومير ثيروبي سيروم 30مل  هو علاج مكثف لمكافحة الشيخوخة. بفضل الصيغة المتقدمة للمكونات النشطة ، فهو يساعد على إبطاء عملية شيخوخة الجلد بشكل فعال والحفاظ على مظهره الشبابي لفترة أطول من الوقت. تركيبة غنية بـ Lapagyl ™ تمنع تقصير التيلومير وشيخوخة الخلايا. بالإضافة إلى ذلك ، يعمل هيكساببتيد Argireline® Amplified على جميع مستويات الجلد ، مما يقلل من ظهور خطوط التعبير والتغيرات المرتبطة بالعمر. بفضل زيت باباسو وزيت الأفوكادو وفيتامين هـ ، ينعم المصل ، ويغذي البشرة وينعمها ، ويضمن التريهالوز والجلسرين ومركب مكون من 4 أشكال من حمض الهيالورونيك الموجود في التركيبة مستوى مُرضٍ من الترطيب.
طريقة الاستخدام:
ضعي كمية صغيرة في الصباح والمساء لتنظيف الوجه والعنق والصدر. دلكي بلطف واتركيه حتى يمتص بالكامل. استخدميه قبل وضع الكريم / الزيت. تجنب ملامسة العين.