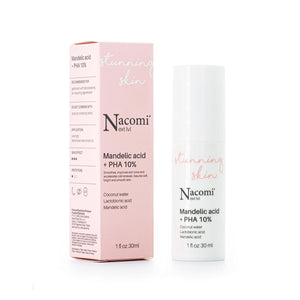 NACOMI NEXT LEVEL STUNNING SKIN MANDELIC ACID+PHA 10% SERUM 30ML 
the serum supports epidermal renewal, cleanses the skin by regulating sebum and prevents photo-ageing.
         

Provides moisture and cleanses

         

Smooths and tightens skin

         

Regulates sebum production

         

Accelerates regeneration

         

Fights wrinkles

         

Evens complexion
Mandelic acid gently exfoliates the epidermis and effectively eliminates blemishes by regulating the secretion of sebum. It is antiseptic, thanks to which it prevents blemishes and blackheads. PHAs moisturise and clarify skin, while fighting wrinkles. Almond milk extract with coconut water smoothen skin and regenerate it.
HOW TO USE:
apply a small amount to clean face and massage in gently. Do not rinse. Be sure to use a sunscreen with an SPF50 while using the treatment. 
ناكومي نيكس ليفيل ستاننغ سكين مانداليك اسيد بي اتش اي 10% سيروم 30مل المصل يدعم تجديد البشرة وينظف البشرة عن طريق تنظيم الدهون ويمنع شيخوخة البشرة. يوفر الرطوبة وينظف ينعم ويشد الجلد ينظم إنتاج الدهون يسرع التجديد يحارب التجاعيد يوحد البشرة يقشر حمض الماندليك البشرة بلطف ويزيل البقع بفعالية عن طريق تنظيم إفراز الدهون. إنه مطهر ، بفضله يمنع البثور والرؤوس السوداء. PHAs يرطب البشرة وينقيها ، بينما يحارب التجاعيد. مستخلص حليب اللوز مع ماء جوز الهند ينعم البشرة ويجددها.
طريقة الاستخدام:
ضعي كمية صغيرة لتنظيف الوجه والتدليك برفق. لا تشطفه. تأكد من استخدام واقي من الشمس بعامل حماية SPF50 أثناء استخدام العلاج.