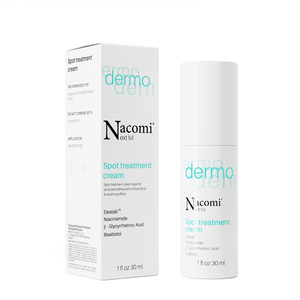 NACOMI NEXT LEVEL SPOT TREATMENT FACE CREAM AGAINST ACNE BLEMISHES 30ML fast-acting anti-inflammatory cream for application on pimples. The formula of the cream, dedicated to the treatment of skin imperfections and gives your skin a sense of relief. The combination of Elestab™, bisabolol and glycyrrhetinic acid ensures antibacterial action and accelerates the elimination of acne lesions. It exfoliates and opens the pore, provides bacterial protection, regulates sebum secretion and prevents their reappearance. Niacinamide additionally soothes irritations and supports skin regeneration. Trehalose maintains the appropriate level of hydration of the skin and increases its elasticity.
HOW TO USE:
Apply the gel locally on the pimples, apply in the morning and/or in the evening, massage gently and let it be completely absorbed. Avoid eye contact. Product for topical use only. Do not use on damaged / irritated skin. Keep away from children. Discontinue use if adverse reactions occur.
ناكومي نكست ليفل سبوت تريتمنت كريم 30مل كريم مضاد للالتهابات سريع المفعول للاستخدام على البثور. تركيبة الكريم مخصصة لعلاج عيوب البشرة وتمنح بشرتك شعوراً بالراحة. يضمن مزيج Elestab ™ و bisabolol و glycyrrhetinic Acid تأثيرًا مضادًا للبكتيريا ويسرع في التخلص من آفات حب الشباب. يقشر ويفتح المسام ، ويوفر الحماية البكتيرية ، وينظم إفراز الدهون ويمنع ظهورها مرة أخرى. بالإضافة إلى ذلك ، يعمل النياسيناميد على تلطيف التهيج ودعم تجديد البشرة. يحافظ تريهالوز على المستوى المناسب لترطيب البشرة ويزيد من مرونتها.
طريقة الاستخدام:
ضعي الجل موضعياً على البثور ، ضعيه في الصباح و / أو في المساء ، دلكي بلطف واتركيه يمتص بالكامل. تجنب ملامسة العين. المنتج للاستخدام الموضعي فقط. لا تستخدميه على البشرة التالفة / المتهيجة. تبقي بعيدا عن متناول الأطفال. توقف عن الاستخدام في حالة حدوث ردود فعل سلبية.