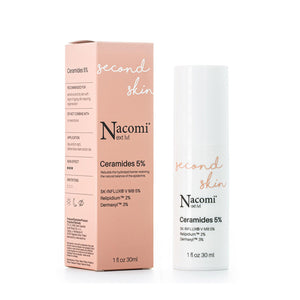 NACOMI NEXT LEVEL SECOND SKIN CERAMIDES 5% SERUM 30ML the serum formula contains peptides and natural active ingredients such as SK-influx® V MB, Relipidium™ and Dermaxyl®. The serum maintains the skin's natural balance, smoothing it, moisturising it perfectly and protecting it from harmful external factors. Panthenol soothes, acts as an anti-inflammatory and antibacterial ingredient, soothes irritation and prevents burning sensation.

HOW TO USE:
apply a small amount to clean face and massage in gently. Apply morning and evening before using moisturiser.
ناكومي نيكس ليفيل سيكند سكين سيراميدس 5% سيروم 30مل تحتوي تركيبة المصل على ببتيدات ومكونات طبيعية نشطة مثل SK-influx® V MB و Relipidium ™ و Dermaxyl®. يحافظ السيروم على التوازن الطبيعي للبشرة ، وينعمها ، ويرطبها بشكل مثالي ، ويحميها من العوامل الخارجية الضارة. يهدئ البانثينول ، ويعمل كمضاد للالتهابات ومضاد للبكتيريا ، ويلطف التهيج ويمنع الإحساس بالحرقان.
طريقة الاستخدام:
ضعي كمية صغيرة لتنظيف الوجه والتدليك برفق. ضعيه في الصباح والمساء قبل استخدام المرطب.