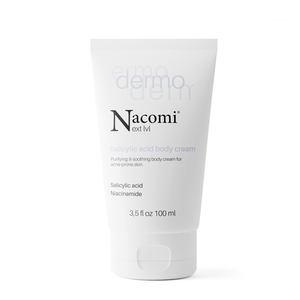 NACOMI NEXT LEVEL PURIFYING & SOOTHING BODY CREAM FOR ACNE-PRONE SKIN 100ML ideal for acne-prone skin. The combination of salicylic acid and niacinamide helps to effectively eliminate blemishes, prevent their reappearance and reduce the risk of hyperpigmentation spots. Salicylic acid unclogs and shrinks pores. It removes dead cells from the surface of the skin and reduces excessive sebum secretion, thus preventing the formation of breakouts. Together with niacinamide, it soothes irritations, accelerates the regeneration process and additionally smoothes the skin. The composition of baobab oil, grape seed and sweet almond present in the cream intensively moisturizes, regenerates and nourishes the skin.
HOW TO USE:
apply a small amount to clean body skin. Massage gently and let it absorb completely. Avoid eye contact. Use an SPF cream during the day. Product for topical use only.
ناكومي نكست ليفل بيورفاينج & سوثنج بودي كريم 100مل مثالي للبشرة المعرضة لحب الشباب. يساعد مزيج حمض الساليسيليك والنياسيناميد في القضاء على الشوائب بشكل فعال ، ومنع ظهورها مرة أخرى وتقليل خطر ظهور بقع فرط التصبغ. يفتح حمض الساليسيليك المسام ويقلصها. يزيل الخلايا الميتة من سطح الجلد ويقلل من إفراز الدهون الزائدة ، وبالتالي يمنع تكوين البثور. جنبا إلى جنب مع النياسيناميد ، فإنه يهدئ التهيج ويسرع عملية التجديد وينعم البشرة بشكل إضافي. تعمل تركيبة زيت الباوباب وبذور العنب واللوز الحلو الموجودة في الكريم على ترطيب البشرة وتجديدها وتغذيتها بشكل مكثف.
طريقة الاستخدام:
ضع كمية صغيرة على بشرة الجسم النظيفة. دلكي بلطف واتركيه يمتص تماما. تجنب ملامسة العين. استخدم كريم SPF خلال النهار. المنتج للاستخدام الموضعي فقط.