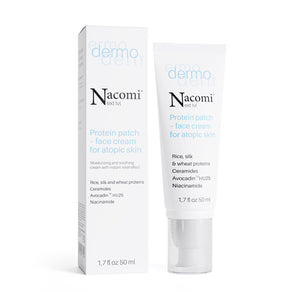 NACOMI NEXT LEVEL PROTEIN PATCH - MOISTURIZING AND SOOTHING FACE CREAM WITH INSTANT RELIEF EFFECT 50ML with rapid soothing action Protein facial cream for sensitive, dry and atopic skin. It soothes irritations and the effects of excessive roughness and pulling of the skin, offering instant relief. Enriched with ceramides, multifunctional polysaccharide and allantoin, it rejuvenates the skin, offers a feeling of relief and supports the reconstruction of the hydrolipidic barrier. Inca inchi oil and olive oil together with rice, silk and wheat proteins ensure the proper care and hydration level of the skin.
HOW TO USE:
Apply a small amount in the morning and evening on cleansed face, neck and décolleté. Massage gently and let it absorb completely. Avoid eye contact.
ناكومي نيكست ليفل بروتين باتش كريم مرطب 50مل كريم بروتين للوجه سريع المفعول ومهدئ للبشرة الحساسة والجافة والأتوبية. يهدئ التهيج وآثار الخشونة والشد المفرط للجلد ، مما يوفر راحة فورية. غني بالسيراميدات والسكريات المتعددة الوظائف والألانتوين ، فهو يجدد البشرة ويوفر إحساسًا بالراحة ويدعم إعادة بناء الحاجز المائي الدهني. يضمن زيت الإنكا إنشي وزيت الزيتون جنبًا إلى جنب مع بروتينات الأرز والحرير والقمح الرعاية المناسبة ومستوى الترطيب للبشرة.
طريقة الاستخدام:
ضع كمية صغيرة في الصباح والمساء على الوجه والعنق والصدر بعد تنظيفهما. دلكي بلطف واتركيه يمتص تماما. تجنب ملامسة العين.