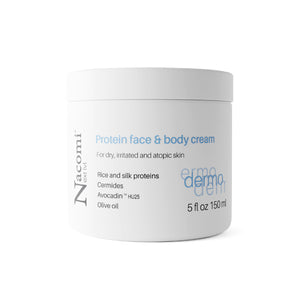 NACOMI NEXT LEVEL PROTEIN FACE & BODY CREAM 150ML multipurpose face and body cream for sensitive, dry and irritated skin. Soothes the excessive roughness and tension of atopic skin. The combination of shea butter and niacinamide softens the skin, restoring the desired feeling of comfort. Thanks to the content of ceramides, multifunctional polysaccharide and allantoin, the cream rejuvenates the skin, offers a feeling of relief and supports the reconstruction of the hydrolipidic barrier. Avocado and olive oil together with rice, silk and wheat proteins restore the skin's proper hydration level.
HOW TO USE:
Apply a small amount to cleansed face or body skin. Massage gently and let it absorb completely. Avoid eye contact.
ناكومي نكست ليفل بروتين فيس & بودي كريم 150مل كريم للوجه والجسم متعدد الأغراض للبشرة الحساسة والجافة والمتهيجة. يلطف الخشونة والتوتر المفرط للبشرة الأتوبية. يعمل مزيج زبدة الشيا والنياسيناميد على تنعيم البشرة واستعادة الشعور بالراحة المطلوب. بفضل محتوى السيراميد وعديد السكاريد متعدد الوظائف والألانتوين ، يجدد الكريم الجلد ويوفر شعوراً بالراحة ويدعم إعادة بناء الحاجز المائي الدهني. الأفوكادو وزيت الزيتون مع الأرز والحرير وبروتينات القمح يعيدان مستوى الترطيب المناسب للبشرة.
طريقة الاستخدام:
ضع كمية صغيرة على بشرة الوجه أو الجسم بعد تنظيفها. دلكي بلطف واتركيه يمتص تماما. تجنب ملامسة العين.