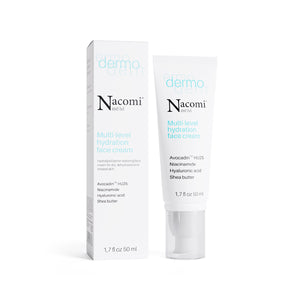 NACOMI NEXT LEVEL MULTI-LEVEL HYDRATION FACE CREAM 50ML care cream for dry and dehydrated skin. Intensively and long-term hydrates and brings relief to dry skin. It contains trehalose and urea, which directly hydrate, and avocado oil and 4 forms of hyaluronic acid, which envelop the skin, preventing excessive evaporation of water from the skin, improving skin elasticity and firming. Natural product.
HOW TO USE:
apply a small amount of cream to cleansed and toned facial skin, spread evenly and let it absorb. Avoid the area around the eyes. Use every day, morning and/or evening.
ناكومي نكست ليفل ملتي ليفل هايدرشن فيس كريم 50مل كريم العناية للبشرة الجافة والجافة. يرطب بشكل مكثف وطويل الأمد ويجلب الراحة للبشرة الجافة. يحتوي على تريهالوز ويوريا اللذان يرطبان مباشرة وزيت الأفوكادو و 4 أشكال من حمض الهيالورونيك التي تغلف الجلد وتمنع التبخر المفرط للماء من الجلد وتحسن مرونة الجلد وثباته. منتج طبيعي.
طريقة الاستخدام:
ضعي كمية صغيرة من الكريم على بشرة وجه نظيفة ومتناسقة ، وزعيها بالتساوي واتركيها تمتص. تجنب المنطقة حول العينين. استخدميه كل يوم ، صباحًا و / أو مساءً.