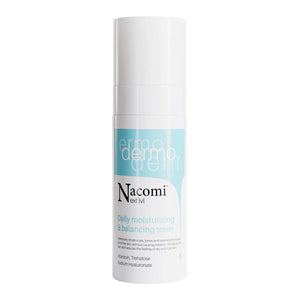 NACOMI NEXT LEVEL MOISTURIZING TONER FOR DRY AND SENSITIVE SKIN 100ML cleanses and tones the skin without causing skin irritation. It restores the skin balance and its natural pH. Enriched with propanediol, multifunctional polysaccharide and allantoin, it revitalizes the skin and provides it with a feeling of relief. Thanks to the advanced active ingredient PatcH2O®, it moisturizes the skin and reduces the feeling of dryness and tightness.

HOW TO USE:
Shake well before use. Apply the toner to cleansed skin of the face with a cotton pad, avoiding the eye area. Use each time after washing your face. Avoid contact with eyes. Product for topical use.
ناكومي نيكست ليفل تونر مرطب 100مل ينظف ويوحد لون البشرة دون التسبب في تهيج الجلد. يعيد توازن البشرة ودرجة حموضتها الطبيعية. غني بالبروبانيديول ، متعدد السكاريد والألانتوين ، ينشط البشرة ويمنحها شعوراً بالراحة. بفضل المكون النشط المتقدم PatcH2O® ، فهو يرطب البشرة ويقلل من الشعور بالجفاف والشد.
طريقة الاستخدام:
يُرج جيداً قبل الاستخدام. ضعي التونر على بشرة نظيفة للوجه باستخدام وسادة قطنية مع تجنب منطقة العين. استخدميه في كل مرة بعد غسل وجهك. تجنب ملامسة العينين. منتج للاستخدام الموضعي.