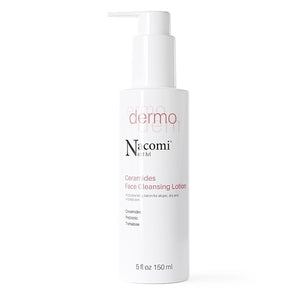 NACOMI NEXT LEVEL MILD FACE CLEANSING LOTION FOR ATOPIC, DRY AND IRRITATED SKIN 150ML  a gentle facial cleanser developed for sensitive and/or atopic skin with or without redness. Gently and effectively removes impurities without damaging the skin barrier. Ingredients such as sweet almond oil, glycerin and trehalose help the skin maintain its moisture balance, increase elasticity and reduce the feeling of tightness. The cleanser is also enriched with ceramides and biolipids that support the rebuilding of the skin's hydrolipidic barrier. The product is vegan.
HOW TO USE
Apply to damp skin, massage in and remove with lukewarm water. Avoid contact with eyes.
نكومي نكست ليفل مايلد فيس كلينزنغ لوشن 150مل منظف ​​لطيف للوجه مطور للبشرة الحساسة و / أو الأتوبية مع أو بدون احمرار. يزيل الشوائب بلطف وفعالية دون الإضرار بحاجز البشرة. تساعد المكونات مثل زيت اللوز الحلو والجلسرين والتريهالوز الجلد في الحفاظ على توازن رطوبته وزيادة المرونة وتقليل الشعور بالضيق. المنظف غني أيضًا بالسيراميد والدهون الحيوية التي تدعم إعادة بناء الحاجز المائي الدهني للبشرة. المنتج نباتي.
طريقة الاستخدام:
ضعيه على بشرة رطبة ، ودلكيه ، ثم قومي بإزالته بالماء الفاتر. تجنب ملامسة العينين.