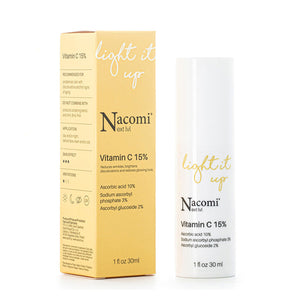 NACOMI NEXT LEVEL LIGHT IT UP VITAMIN C 15%  SERUM 30ML nacomi Next Level serum based on 3 forms of Vitamin C. Restores glow, fills in wrinkles, evens out complexion, and combats blemishes.
         

Brightens discolourations

         

Firms skin and makes it smoother

         

Reduces wrinkles

         

Delays skin ageing

         

Restores radiance

         

Soothes irritation

         

Protection from external factors

         

Stimulates collagen production
Vitamin C has anti-inflammatory and antioxidant properties, so it copes with acne and wrinkles. It provides protection for the skin and supports the regenerative processes. Sweet almond oil lightens dark spots and strengthens skin elasticity, while almond oil further moisturises skin.
HOW TO USE: 
Apply a small amount to clean face and massage in gently. Do not rinse. Apply morning and evening. To avoid irritation, use a sunscreen with SPF50 during the treatment.
ناكومي نيكس ليفيل لايت ات اب فيتامين سي 15% سيروم مصل nacomi Next Level الذي يعتمد على 3 أشكال من فيتامين سي يعيد التوهج ويملأ التجاعيد ويوحد البشرة ويكافح الشوائب. يضيء تغيرات اللون يشد البشرة ويجعلها أكثر نعومة يقلل التجاعيد يؤخر شيخوخة الجلد يعيد التألق يلطف التهيج الحماية من العوامل الخارجية يحفز إنتاج الكولاجين يحتوي فيتامين سي على خصائص مضادة للالتهابات ومضادة للأكسدة ، لذلك فهو يتواءم مع حب الشباب والتجاعيد. يوفر الحماية للبشرة ويدعم عمليات التجدد. يعمل زيت اللوز الحلو على تفتيح البقع الداكنة وتقوية مرونة الجلد ، بينما يعمل زيت اللوز على ترطيب البشرة بشكل أكبر.
طريقة الاستخدام: ضعي كمية صغيرة لتنظيف الوجه والتدليك برفق. لا تشطفه. يوضع صباحا ومساء. لتجنب التهيج ، استخدم واقٍ من الشمس بعامل حماية SPF50 أثناء العلاج.