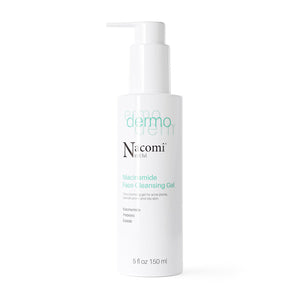 NACOMI NEXT LEVEL FACE CLEANSING GEL FOR ACNE-PRONE, BLEMISH-PRONE AND OILY SKIN 150ML facial cleanser in gel form suitable for acne-prone and/or oily skin, which gently removes dirt and excess sebum. Enriched with niacinamide and panthenol that soothes irritations.
HOW TO USE:
Apply to damp skin, massage in and remove with lukewarm water. Avoid contact with eyes.
نكومي نكست ليفل فيس كلينزنغ جل 150مل منظف ​​للوجه على شكل جل مناسب للبشرة المعرضة لحب الشباب و / أو البشرة الدهنية ، حيث يزيل الأوساخ والدهون الزائدة بلطف. غني بالنياسيناميد والبانثينول الذي يهدئ التهيج.
طريقة الاستخدام:
ضعيه على بشرة رطبة ، ودلكيه ، ثم قومي بإزالته بالماء الفاتر. تجنب ملامسة العينين.