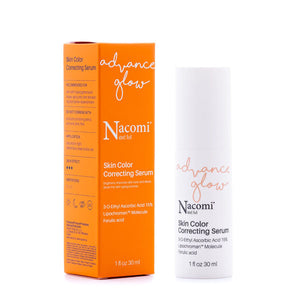 NACOMI NEXT LEVEL COLOR CORRECTING SERUM 30ML the ultra-high stability form of vitamin C present in the serum stimulates collagen synthesis, reduces discoloration and evens out the skin tone. When combined with Lipochroman™, ferulic acid, a vegan alternative to snail slime and vitamin E, it protects cells from damage caused by oxidative stress to slow down the skin aging process. The serum enriched with a prebiotic helps to strengthen the skin protective barrier, rebuilds its natural bacterial microflora and gives the skin a radiant glow.

HOW TO USE:
apply a small amount in the morning and/or evening to cleansed face, neck and décolleté. Gently massage it in and let it absorb completely. Use before applying cream/oil. Avoid contact with eyes. Product for topical use. Do not use on damaged/irritated skin. Keep away from children. Discontinue use if adverse reactions occur. Do not use with other products containing retinol and AHA, BHA and PHA acids. During the treatment, it is necessary to use day cream with SPF 50 factor
ناكومي نيكست ليفيل كولور كوريكتينغ سيروم 30مل يحفز شكل الثبات الفائق لفيتامين C الموجود في المصل تخليق الكولاجين ويقلل من تغير اللون ويوحد لون البشرة. عند دمجه مع Lipochroman ™ ، حمض الفيروليك ، وهو بديل نباتي للحلزون اللزج وفيتامين E ، فإنه يحمي الخلايا من التلف الناتج عن الإجهاد التأكسدي لإبطاء عملية شيخوخة الجلد. المصل المخصب بالبريبايوتيك يساعد على تقوية الحاجز الواقي للبشرة ، ويعيد بناء البكتيريا البكتيرية الطبيعية ويمنح البشرة توهجًا مشعًا.
طريقة الاستخدام:
ضعي كمية صغيرة في الصباح و / أو في المساء على الوجه والعنق والصدر بعد تنظيفهما. قم بتدليكه بلطف واتركه يمتص تمامًا. استخدم قبل وضع الكريم / الزيت. تجنب ملامسة العينين. منتج للاستخدام الموضعي. لا تستخدمه على البشرة التالفة / المتهيجة. تبقي بعيدا عن متناول الأطفال. توقف عن الاستخدام في حالة حدوث ردود فعل سلبية. لا تستخدمه مع المنتجات الأخرى التي تحتوي على أحماض الريتينول و AHA و BHA و PHA. أثناء العلاج ، من الضروري استخدام كريم النهار بعامل SPF 50