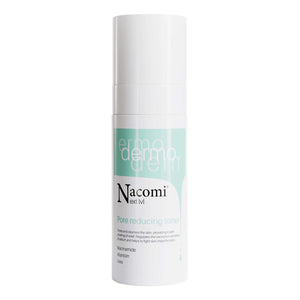 NACOMI NEXT LEVEL CLEANSING TONER FOR OILY AND ACNE-PRONE SKIN 100ML removes skin impurities and tones the skin without causing skin irritation. It restores the skin balance and its natural pH. Thanks to the extracts of pine and beech bark, it regulates the excessive secretion of sebum and helps to fight skin imperfections. Enriched with niacinamide, panthenol, allantoin and the active ingredient PatcH2O®, the toner soothes skin redness, moisturizes the skin and gives it a feeling of relief.

HOW TO USE:
Shake well before use. Apply the toner to cleansed skin of the face with a cotton pad, avoiding the eye area. Use each time after washing your face. Avoid contact with eyes. Product for topical use.
نكومي نيكست ليفل تونر منظف 100مل يزيل الشوائب ويوحد لون البشرة دون التسبب في تهيج الجلد. يعيد توازن البشرة ودرجة حموضتها الطبيعية. بفضل مستخلصات الصنوبر ولحاء الزان ، فهو ينظم الإفراز المفرط للدهون ويساعد على محاربة عيوب البشرة. غني بالنياسيناميد والبانثينول والألانتوين والمكون الفعال PatcH2O® ، يعمل التونر على تلطيف احمرار البشرة وترطيبها وإعطائها شعورًا بالراحة.
طريقة الاستخدام:
يُرج جيداً قبل الاستخدام. ضعي التونر على بشرة نظيفة للوجه باستخدام وسادة قطنية مع تجنب منطقة العين. استخدميه في كل مرة بعد غسل وجهك. تجنب ملامسة العينين. منتج للاستخدام الموضعي.