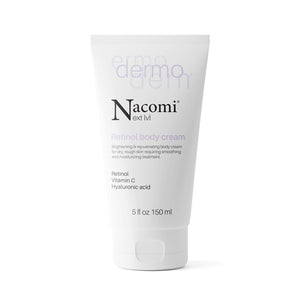 NACOMI NEXT LEVEL BRIGHTENING & REJUVENATING BODY CREAM WITH RETINOL AND VITAMIN C 150ML vitamin C is one of the most popular vitamins, with a wide range of effects. Its ultra-stable form exhibits more effective action than other vitamin C derivatives and does not cause skin irritation even at high concentrations. As a strong and proven antioxidant, it is an ideal element of anti-aging therapy. In addition, by stimulating collagen synthesis, vitamin C not only eliminates wrinkles but also prevents the formation of new ones. It helps to bring out the radiant glow of dull, grayish, and tired skin with uneven color.
Retinol, as the most effective form of skin care for signs of aging, stimulates cells called fibroblasts to increase natural collagen production. Thanks to its properties, it not only works against wrinkles but also effectively supports the fight against acne and cleanses clogged pores. It exfoliates the epidermis and regulates sebum secretion, preventing the formation of pimples.
Sweet almond oil stimulates the natural processes of repairing damaged skin. It immediately penetrates the skin, deeply nourishing it, without leaving a greasy layer. Regular use helps to permanently smooth out fine wrinkles and eliminate discoloration. Along with avocado oil, it has strong moisturizing properties, improving skin elasticity.
HOW TO USE:
Apply the cream to cleansed body skin. Leave on until completely absorbed.
ناكومي نكست ليفل ريتينول و فيتامين سي كريم الجسم 150مل فيتامين سي هو أحد الفيتامينات الأكثر شيوعًا ، وله مجموعة واسعة من التأثيرات. يُظهر شكله فائق الثبات تأثيرًا أكثر فعالية من مشتقات فيتامين سي الأخرى ولا يسبب تهيجًا للجلد حتى عند التركيزات العالية. بصفته أحد مضادات الأكسدة القوية والمثبتة ، فهو عنصر مثالي في العلاج المضاد للشيخوخة. بالإضافة إلى ذلك ، من خلال تحفيز إنتاج الكولاجين ، لا يزيل فيتامين C التجاعيد فحسب ، بل يمنع أيضًا تكوين تجاعيد جديدة. يساعد على إبراز التوهج اللامع للبشرة الباهتة والرمادية والمتعبة مع لون غير متساوٍ.
الريتينول ، باعتباره الشكل الأكثر فعالية للعناية بالبشرة لعلامات الشيخوخة ، يحفز الخلايا التي تسمى الخلايا الليفية لزيادة إنتاج الكولاجين الطبيعي. بفضل خصائصه ، فهو لا يعمل فقط ضد التجاعيد ولكنه يدعم بشكل فعال مكافحة حب الشباب وينظف المسام المسدودة. يقشر البشرة وينظم إفراز الدهون ويمنع تكون البثور.
يحفز زيت اللوز الحلو العمليات الطبيعية لإصلاح الجلد التالف. يخترق الجلد على الفور ويغذيه بعمق دون ترك طبقة دهنية. يساعد الاستخدام المنتظم على تنعيم التجاعيد الدقيقة بشكل دائم والقضاء على تغير اللون. إلى جانب زيت الأفوكادو ، له خصائص ترطيب قوية ، مما يحسن مرونة الجلد.
طريقة الاستخدام:
ضعي الكريم على بشرة جسد نظيفة. يترك حتى يمتص تماما.