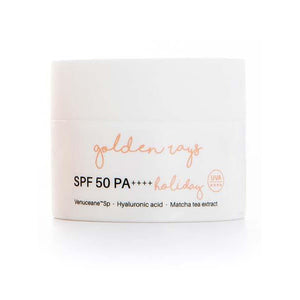 NACOMI NEXT LEVEL ANTI-AGING SPF 50 DAY CREAM 50ML provides the skin with a high level of protection against UVA and UVB radiation. In addition, Nacomi Next Level Cream effectively moisturises, nourishes and accelerates cell regeneration. Ideal for use on the beach and during sunny summer days.
The formula of Nacomi Next Level Holiday Cream SPF 50 has been enriched with the active VENUCEANE™, which delays skin ageing, soothes inflammations and stimulates skin regeneration. A hyaluronic acid complex provides deep hydration to help skin regain firmness and elasticity, while UVA and UVB filters effectively deflect the sun's harmful rays.
HOW TO USE:
Evenly apply about 1g of the cream to the cleansed skin of the face. Use about 20 minutes before sun exposure. You can use the cream on its own or as a make-up base. Avoid the eye area.
ناكومي نكست ليفل انتي اجينج اس بي اف 50 كريم نهاري 50مل يزود البشرة بمستوى عالٍ من الحماية ضد أشعة UVA و UVB. بالإضافة إلى ذلك ، يعمل كريم Nacomi Next Level على ترطيب وتغذية وتسريع تجديد الخلايا بشكل فعال. مثالي للاستخدام على الشاطئ وخلال أيام الصيف المشمسة. تم إثراء تركيبة Nacomi Next Level Holiday Cream SPF 50 بـ VENUCEANE ™ النشط ، الذي يؤخر شيخوخة الجلد ، ويهدئ الالتهابات ويحفز تجديد الجلد. يوفر مركب حمض الهيالورونيك ترطيبًا عميقًا لمساعدة البشرة على استعادة تماسكها ومرونتها ، بينما تعمل فلاتر UVA و UVB على تشتيت أشعة الشمس الضارة بشكل فعال.
طريقة الاستخدام:
ضعي حوالي 1 جرام من الكريم بالتساوي على بشرة الوجه النظيفة. استخدم حوالي 20 دقيقة قبل التعرض للشمس. يمكنك استخدام الكريم بمفرده أو كأساس للمكياج. تجنب منطقة العين.