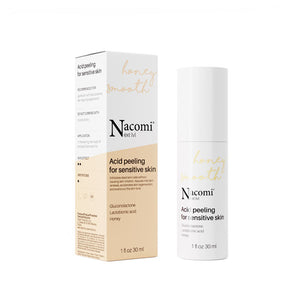 NACOMI NEXT LEVEL ACID EXFOLIATOR FOR SENSITIVE SKIN 30ML acid peeling created for delicate and sensitive skin. Based on the natural active ingredient APIBREEZE, it provides gentle skin renewal, accelerates its regeneration and evens out the skin tone. The lactobionic acid contained in it together with gluconolactone has a keratolytic effect without causing irritation. PHA acids, by stimulating the synthesis of collagen and elastin, have an anti-wrinkle effect, eliminating free radicals and preventing skin aging. Manuka honey extract nourishes, regenerates and smoothes the skin, leaving it velvety smooth.
HOW TO USE:
apply a small amount in the evening to the cleansed skin of the face, neck and cleavage, avoiding the eye area, mucous membranes of the mouth and nose. Massage gently and leave for up to 10 minutes, then wash off with lukewarm water. Start using by leaving it on for 2-3 minutes. Use before cream/oil application. Use 2-3 times a week during evening care.
ناكومي نيكست ليفل اسيد اكسفولياتور للبشرة الحساسة 30مل مقشر حمضي مصمم للبشرة الحساسة والحساسة. استنادًا إلى المكون النشط الطبيعي APIBREEZE ، فإنه يوفر تجديدًا لطيفًا للبشرة ، ويسرع تجددها ويوحد لون البشرة. حمض اللاكتوبيونيك الموجود فيه مع جلوكونولاكتون له تأثير القرنية دون التسبب في تهيج. أحماض PHA ، عن طريق تحفيز إنتاج الكولاجين والإيلاستين ، لها تأثير مضاد للتجاعيد ، وتزيل الجذور الحرة وتمنع شيخوخة الجلد. يغذي مستخلص عسل مانوكا البشرة ويجددها وينعمها ، ويتركها ناعمة المخملية.
طريقة الاستخدام:
توضع كمية قليلة في المساء على بشرة الوجه والرقبة والشق النظيف ، مع تجنب منطقة العين والأغشية المخاطية للفم والأنف. دلكي بلطف واتركيه لمدة تصل إلى 10 دقائق ، ثم اغسليه بالماء الفاتر. ابدأ باستخدامه بتركه لمدة 2-3 دقائق. استخدميه قبل وضع الكريم / الزيت. استخدم 2-3 مرات في الأسبوع خلال المساء