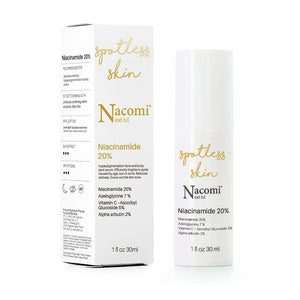 NACOMI NEXT LEVEL NIACINAMIDE 20% SERUM 30ML nacomi Next Level serum contains niacinamide, which shows the following effects:
         

Anti-inflammatory

         

Brightening,

         

Smoothing.
Who should use such a serum? If there are acne marks on our face, discoloration resulting from too intense sun exposure or due to age, discoloration has started to appear - the Nacomi Next Level serum will be the best solution:
         

It will even out the skin tone,

         

Smooth,

         

It soothes irritations.
HOW TO USE: a small amount of the serum should be applied pointwise to areas of changed color, gently massaging into cleansed and dry skin. During the treatment, use an SPF 50 cream during the day.
ناكومي نيكس ليفيل نياسنيمايد 20% سيروم 30مل يحتوي مصل Nacomi Next Level على النياسيناميد ، والذي يظهر التأثيرات التالية: مضاد التهاب اشراق التنعيم. من يجب أن يستخدم مثل هذا المصل؟ إذا كانت هناك علامات حب الشباب على وجهنا ، أو تغير اللون الناتج عن التعرض الشديد للشمس أو بسبب العمر ، فقد بدأ تغير اللون في الظهور - سيكون مصل Nacomi Next Level هو الحل الأفضل: سوف يخرج لون البشرة ، سلس، يهدئ التهيج.
طريقة الاستخدام: يجب وضع كمية صغيرة من السيروم بإشارة على المناطق ذات اللون المتغير ، وتدليكها بلطف على بشرة نظيفة وجافة. أثناء العلاج ، استخدم كريم SPF 50 خلال النهار.