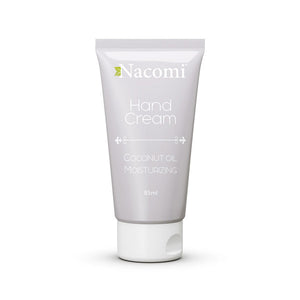 NACOMI MOISTURIZING HAND CREAM 85ML this intensely moisturizing hand cream helps fight the effects of all factors that excessively dry the skin of the hands, such as cold, heating, sun rays, salt water or inadequate diet. This unique formula, combining the three most valuable, highly moisturising natural oils - coconut, avocado and grape, is the best weapon in the fight against flaky, dry skin. Each of these oils moisturises and absorbs well. Avocadooil has a treasure chest of valuable vitamins and is especially recommended for people who have problems with sensitive skin. Panthenol is added to relieve irritation and inflammation and it softens and strengthens the skin.
HOW TO USE: 
Put a small amount of cream on your hands and massage it into the skin.
ناكومي كريم مرطب لليدين85مل يساعد كريم اليد المرطب بشكل مكثف على محاربة آثار جميع العوامل التي تؤدي إلى جفاف بشرة اليدين بشكل مفرط ، مثل البرد أو الحرارة أو أشعة الشمس أو الماء المالح أو النظام الغذائي غير الكافي. هذه التركيبة الفريدة ، التي تجمع بين أكثر ثلاثة زيوت طبيعية قيمة وترطيبًا للغاية - جوز الهند والأفوكادو والعنب ، هي أفضل سلاح في مكافحة الجلد الجاف المتقشر. كل من هذه الزيوت يرطب ويمتص جيدًا. يحتوي الأفوكادو على صندوق كنز من الفيتامينات القيمة ويوصى به بشكل خاص للأشخاص الذين يعانون من مشاكل البشرة الحساسة. يضاف البانثينول للتخفيف من التهيج والالتهابات وينعم البشرة ويقويها.
طريقة الاستخدام:
ضعي كمية صغيرة من الكريم على يديك ودلكيها على البشرة.