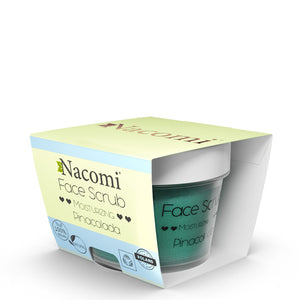 NACOMI MOISTURIZING FACE&LIPS SCRUB - PINA COLADA 80G  is great for all skin types. It gently exfoliates dead cells to make your skin smooth and to stimulate its natural renewal processes. The scrub's amazing change from gel to cream will definitely be a pleasant surprise!
HOW TO USE: 
Apply a small amount of pina colada face and lip scrub to clean, damp skin. Gently massage the face and lips for a few minutes in a circular motion avoiding the eye area. Wash it off after 5 minutes. Use the scrub twice a week to get the best results.
مقشر ناكومي المرطب للشفاه و الوجه- بينا كولادا 80غرام رائع لجميع أنواع البشرة. يقشر الخلايا الميتة بلطف ليجعل بشرتك ناعمة ولتحفيز عمليات التجديد الطبيعية. سيكون تغيير المقشر المذهل من الجل إلى الكريم مفاجأة سارة بالتأكيد!
طريقة الاستخدام:
ضعي كمية صغيرة من مقشر الوجه والشفاه من بيناكولادا لتنظيف البشرة ورطوبتها. قم بتدليك الوجه والشفاه برفق لبضع دقائق بحركة دائرية مع تجنب منطقة العين. اغسليه بعد 5 دقائق. استخدمي المقشر مرتين في الأسبوع للحصول على أفضل النتائج.