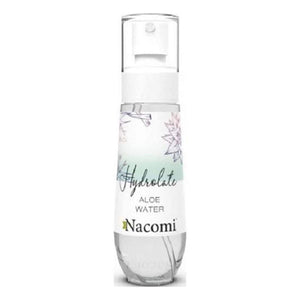 NACOMI HYDROLATE - ALOE WATER 80ML for daily care of all skin types. It has a subtle scent of aloe. Most often used as a tonic after removing make-up and skin cleansing. Simple formula that is gentle and vegan. 
HOW TO USE:
Spray on dry skin. Can be used as a facial tonic, a moisturising mist or a base for cream. Perfect while travelling. Also suitable for body care. Use as necessary, even several times a day.
ناكومي هيدروليت-اوليفيرا 80مل عناية يومية لجميع انواع البشرة. لها رائحة خفية من الاوليفيرا غالبا ما يستخدم كمنشط بعد إزالة المكياج وتنظيف البشرة. تركيبة بسيطة لطيفة ونباتية.
طريقة الاستخدام:
رش على الجلد الجاف. يمكن استخدامه كمنشط للوجه أو رذاذ مرطب أو كأساس للكريم. مثالي أثناء السفر. مناسب أيضًا للعناية بالجسم. استخدم عند الضرورة ، حتى عدة مرات في اليوم.