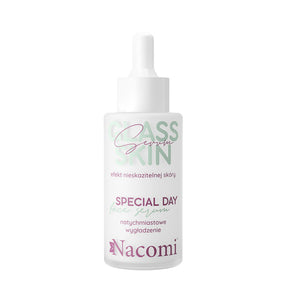 NACOMI GLASS SKIN -  FACE SERUM 40ML be sure to try this concentrated face serum that intensely hydrates and restores harmony and radiance to the skin.

Thanks to advanced active ingredients, it provides a clearly illuminated finish, giving the effect of skin as smooth as a glass plate.

It also strengthens the skin barrier, tightens pores, eliminates discoloration and evens out color
HOW TO USE: shake before use. Apply a small amount of the serum to your face and leave overnight until fully absorbed. Avoid contact with eyes. Product for external use.
ناكومي قلاس سكين فيس سروم 40مل تأكدي من تجربة مصل الوجه المركز هذا الذي يرطب البشرة بشكل مكثف ويعيد الانسجام والتألق إلى البشرة. بفضل المكونات النشطة المتقدمة ، فإنه يوفر لمسة نهائية مضيئة بوضوح ، مما يمنح البشرة تأثيرًا ناعمًا مثل اللوح الزجاجي. كما أنه يقوي حاجز البشرة ويشد المسام ويزيل تغير اللون ويسوي اللون
طريقة الاستخدام:
رج العبوة قبل الاستخدام. ضعي كمية صغيرة من السيروم على وجهك واتركيه طوال الليل حتى يتم امتصاصه بالكامل. تجنب ملامسة العينين. منتج للاستخدام الخارجي.