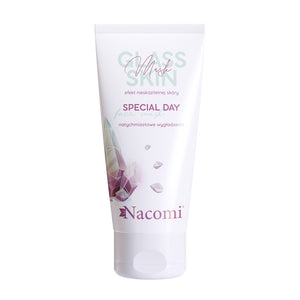 NACOMI GLASS SKIN FACE MASK 50ML hydrates and illuminates the skin, enhancing its natural glow and giving it the effect of "glass skin". Its composition, rich in active ingredients, unclogs pores, reduces discoloration, eliminates spots and smoothes the skin. It enhances the skin's natural luminosity and provides a "glassy skin" effect, obtaining a smooth, flawless and even-toned skin.
HOW TO USE:
Apply the mask to clean, dry skin, avoiding the area around the eyes and lips. Leave on for 15 minutes and rinse with water.
ناكومي جلاس سكن فيس ماسك 50مل يرطب ويضيء البشرة ، ويعزز توهجها الطبيعي ويعطيها مفعول "الجلد الزجاجي". تركيبته الغنية بالمكونات النشطة تفتح المسام وتقلل من تغير اللون وتزيل البقع وتنعم البشرة. إنه يعزز لمعان البشرة الطبيعي ويوفر تأثير "الجلد الزجاجي" ، للحصول على بشرة ناعمة وخالية من العيوب ومتجانسة اللون.
طريقة الاستخدام:
ضعي القناع على بشرة نظيفة وجافة مع تجنب المنطقة حول العينين والشفتين. اتركيه لمدة 15 دقيقة ثم اشطفيه بالماء.