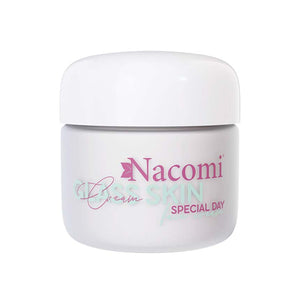 NACOMI GLASS SKIN -  FACE CREAM 50ML give your face a fresh and radiant look.
Moisturizes, softens and stimulates the regeneration of dull and tired skin.
Reduces discoloration, redness and enlarged pores.
It strengthens the skin's barrier and evens out its tone, making it clear, even and radiant.

HOW TO USE:
Apply a small amount of cream to clean skin and massage gently.

ناكومي قلاس سكين فيس كريم 50مل امنح وجهك مظهرًا منعشًا ومشرقًا. يرطب وينعم ويحفز تجديد البشرة الباهتة والمتعبة. يقلل من تغير اللون والاحمرار وتضخم المسام. يقوي حاجز البشرة ويوحد لونها ، ويجعلها صافية ومتجانسة ومشرقة.
طريقة الاستخدام:
ضعي كمية قليلة من الكريم لتنظيف البشرة وتدليكها برفق.