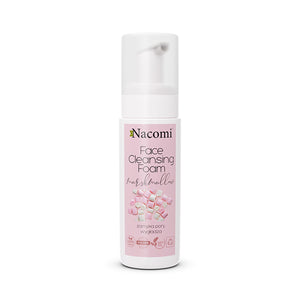 NACOMI FACE CLEANSING FOAM MARSHMALLOW 150G gently cleanses and smoothes the skin at the same time . Based on natural and biodegradable washing ingredients, it does not cause irritation. Marshmallow is an ideal ingredient for people with sensitive skin . Moisturizes, tightens and gently firms the skin. Your complexion will become smooth and your pores will be visibly narrowed .
HOW TO USE:
The shake off before use. Apply the right amount of foam to your hand, wash your face until your skin is clean. Wash off with water. Avoid contact with the eyes.
ناكومي غسول الوجه الرغوي-مارشملو 150غرام  ينظف البشرة بلطف وينعمها في نفس الوقت. بناءً على مكونات الغسيل الطبيعية والقابلة للتحلل ، فإنه لا يسبب تهيجًا. المارشميلو هو مكون مثالي للأشخاص ذوي البشرة الحساسة. يرطب ويشد البشرة بلطف. ستصبح بشرتك ناعمة وستضيق مسامك بشكل واضح.
طريقة الاستخدام:
يفض قبل الاستخدام. ضعي الكمية المناسبة من الرغوة على يدك ، واغسلي وجهك حتى تصبح بشرتك نظيفة. يغسل بالماء. تجنب ملامسة العينين.